Mr. Gray, Episode 6
2020 / Recruiting Film
Briefing
A recruiting film in six episodes. Get to know the work at the tax consultancy Schwarz und Bengsch and imagine what the work could look like elsewhere. The painful experiences of Mr. Grau provide information about this.

The Project
Production
imotion factory
Services
Idea, Concept, Screenplay, Production, Post Production
Behind The
Scenes
The script was the linchpin for everyone involved
Mr. Gray, Episode 6
We had three days of shooting for a total of six films with various actors at several locations and over 250 camera positions. In such a case, meticulous preparation is the decisive success factor. The Schwarz & Bengsch team provided active support and we could hardly keep ourselves on our feet with laughter during the comedic performance of our main actor Florian (Mr. Gray).
The poor guy really had a lot to go through, but whether he had to slide across the asphalt with a bouquet of flowers in his hand or put his face into an exploding engine, he mastered everything perfectly - respect!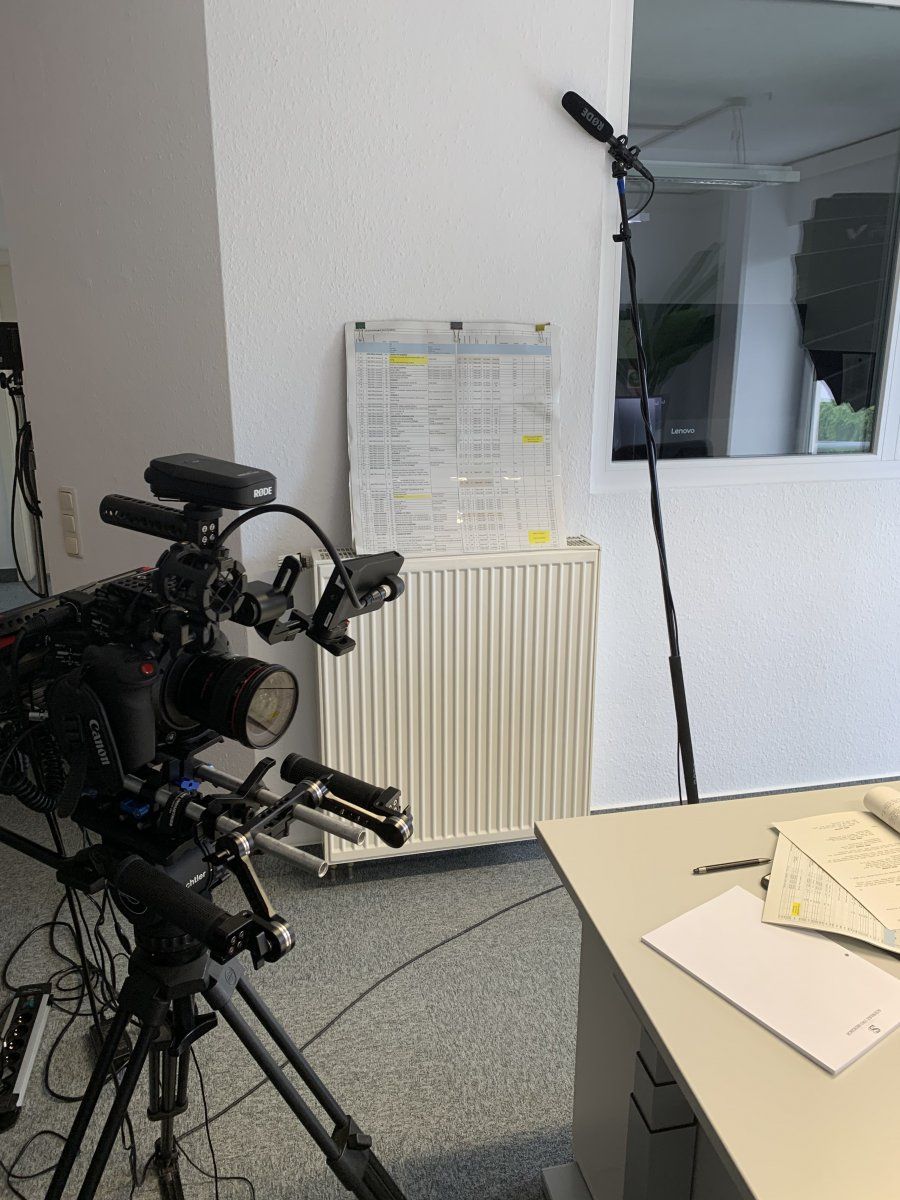 Over 250 camera settings were recorded on the shotlist.
Aaaand action. Filming the office scene.
Der Director's Monitor stand für die Kunden bereit, damit sie die Szenen mitverfolgen konnten
It was a hot day out in the parking lot.
The director and Mr. Gray became best friends over time.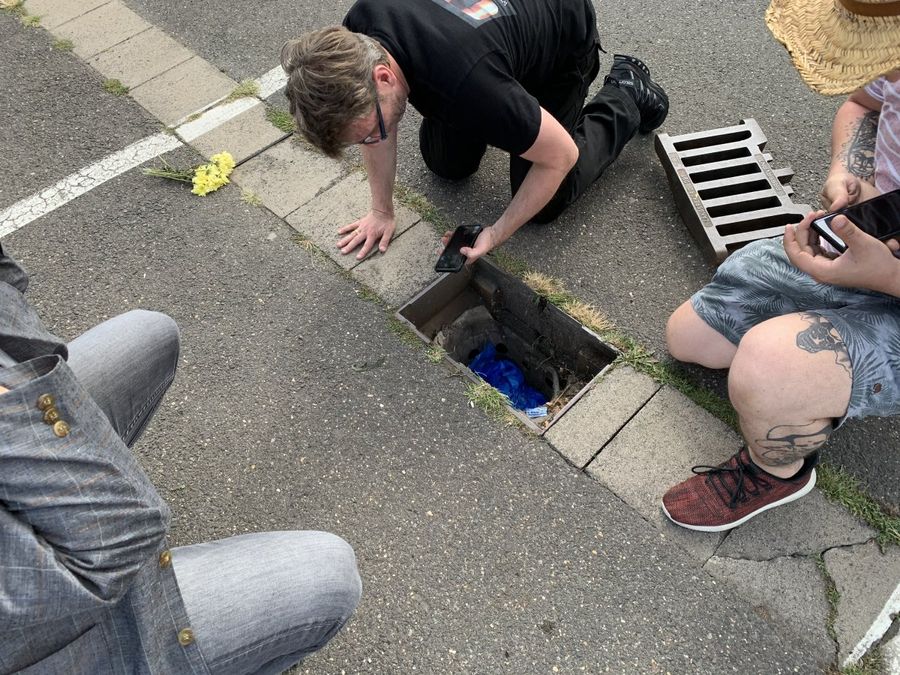 The gully was really very dirty. But it didn't help, we needed a shot from the perspective of the lost key. This time it was simply filmed with the smartphone.
Florian receives final instructions before his fall.
There he lies now and sees his key in the gully.
This is what you look like after an engine explosion.
Preparation of the office scene
Shooting with the camera on the shoulder rig.
Final stage directions for Mrs. König
Sometimes directors have to be actors too.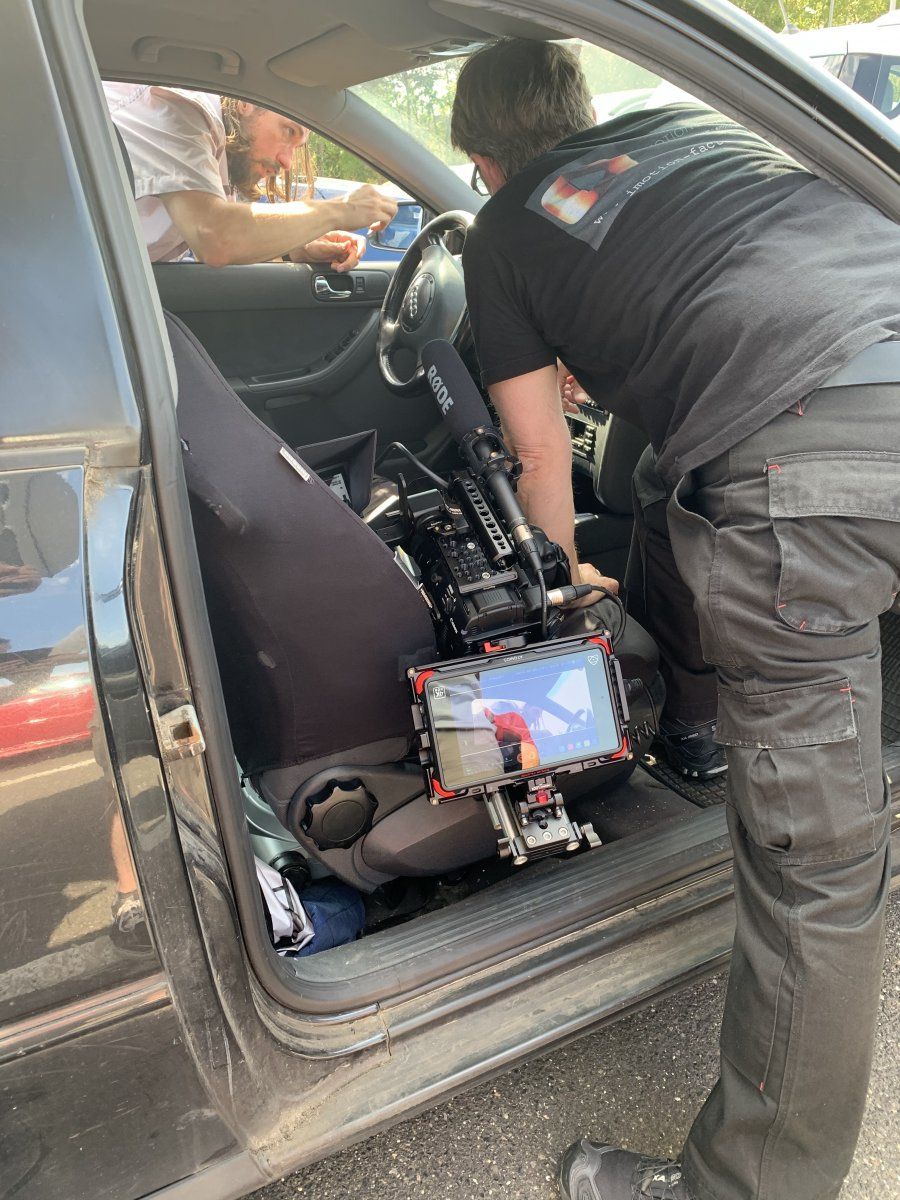 The parking ticket scene was done in no time.
Ok, that should work.
Florian practiced his fall until it was perfect.
That was the explosion scene. The engine didn't explode, of course, and Florian wasn't even standing in front of the bonnet. It's all fake, but it still looks really good in the film.
After the last scene we celebrated the wrap party at this location.
In case you need more of this,
here is more of this